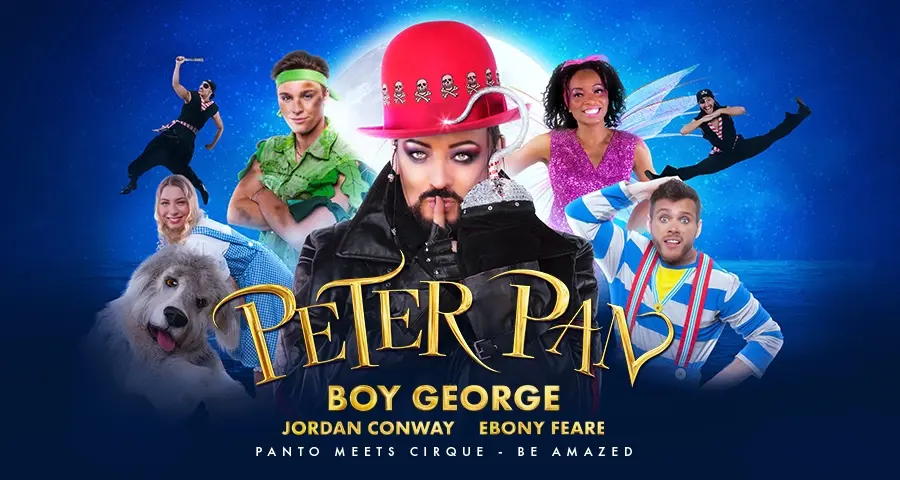 Peter Pan
A big budget extravaganza adaptation of J.M Barrie's much-loved tale Peter Pan flies into Cardiff this Christmas, promising a spectacular spin on the timeless classic adventure!  
Karma Chameleon Boy George Debuts as Captain Hook in this Neverland fantasy.  
The cast of fifty includes a dozen cirque performers, dazzling aerial stunts, a giant battle where the audience throw cannon balls at Hook's ship and a death-defying escape from a locked water tank by rising comedy star Jordan Conway playing Peter Pan, plus a large troupe of Irish and Highland dancers.
Fabulous animated digital sets redefine the genre with an immersive experience of magic and wonderment that even the most cynical audiences will be blown away by.


*Dorit Kemsley will not be appearing in Cardiff*
 
ON SALE NOW! 

SAT 9 DECEMBER - AFTERNOON 
12pm Doors open // 1pm Show begins

*updated* SAT 9 DECEMBER - EVENING 
6pm Doors // 7pm Show begins
SUN 10 DECEMBER - AFTERNOON 
12pm Doors // 1pm Show starts
TICKET UPGRADES
To book an upgrade for this event, add to your basket when purchasing your show ticket, or call 029 2022 4488.
For more information on ticket upgrades, click HERE
If you already have your show ticket, click the links below:
9 December Evening Show Upgrade
Grab your upgrade here for 9 December evening show. L2 Restaurant available. See upgrades page for inclusions. Main show ticket also required.
Upgrade Here