We look forward to welcoming you to the Arena!

When you enter through either of our main entrances, please note that strict security checks are in place and we ask that you don't bring a (small) bag, unless you really need to.
BAG POLICY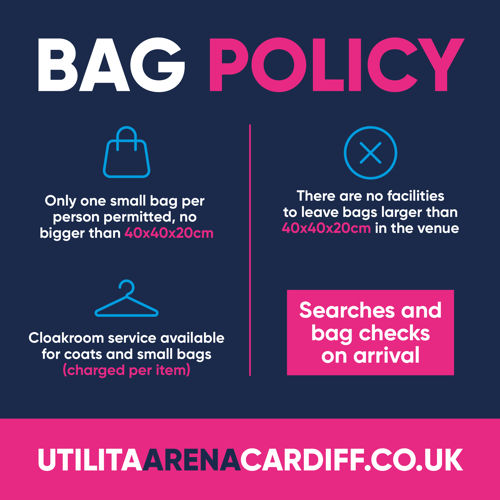 Only one small bag per person is permitted - if you absolutely need to bring one. This includes shopping bags.
It must be no bigger than 40x40x20cm. 
Security measures are in place, with bag checks and searches on arrival.  
There are no facilities to leave large bags or luggage on site. 
Cloakroom available (at small charge) for smaller items (within permitted dimensions).
See our FAQ's for further details.
After you pass through security, your ticket will be scanned as you enter and our stewards are always on hand to help make your visit to the Arena as enjoyable as possible.
Restricted items include (but are not limited to):
A    Weapons of any kind.
B    Illegal drugs and substances, including unmarked liquid or pill medication bottles. Legally prescribed medications may be permitted if in a prescription bottle/container with a pharmacy-generated label containing the individual's name – subject to verification via valid identification. Any other medications are considered on a case-by-case basis on site.
C    Bags and containers larger than 40cm x 40cm x 20cm.
D    Alcohol, cans and bottles. 
E    Food or drink (unless required due to a pre-existing condition which is supported with medical evidence in accordance with C).
F    Laser pens or pointers
G    Cameras (including; professional cameras, tablets, camera stand, lenses & selfie sticks).
H    Fireworks, fire-starters, and open flames.
I    Audio recording equipment, noise-making devices.
J    Skateboards and rollerblades, hover-boards, scooters, bicycles, and other personal motorized and non-motorized vehicles.
K    Non-service animals/animals not used by those with a disability.
L    Unauthorized solicitation or marketing materials (e.g., handbills, flyers, stickers).
M    Any item deemed to be dangerous by the General Manager (the designated responsible person for the overall general event operations and implementing this policy).
N    All unapproved unmanned aerial systems (UAS) or drones unless expressly authorized in accordance with LNE's Unmanned Aircraft Systems Policy.
O   Clothing with prejudicial or explicit wording.
SOME EVENTS MAY ALSO REFUSE THE FOLLOWING:
1    Fancy dress or costume accessories
2    Football shirts
3    Flags or large signs
4    Cups or glasses sold on Merch (in which case must be sold at the end of the event)