Visit Our Bars
We have bars in our main arena and foyer, as well as on level one and level two
Main Arena Bars

We have four bars situated across the main Arena for refreshing drinks and snacks, as well as a food court in the main foyer area.
Our main Arena bars offer:
A choice of beer and ciders on draught
Shipyard Pale Ale on draught
Truly Hard Seltzer - Flavours including Wild Berry, Black Cherry, Original Lemon and more
A selection of soft drinks including Pepsi Max
A variety of VK alcopop flavours and Hooch
House wines and other drinks including Prosecco and Moet
A range of spirits
Nohrlund organic cocktails – a variety of flavours
Look out for our mobile refreshment team and refreshment stand around the arena, selling a selection of confectionary (including sweets and Walkers crisps)
We also have tea, coffees & hot chocolate for sale by Square One Coffee. LINK
We constantly check on queues and know that sometimes these can be busy. If you spot a large queue, speak to a nearby steward who will be able to advise you on the quietest bar or direct you to our bars on level one and two.
Getting to our Main Arena Bars
The closest bars if you enter through are Box Office entrance are situated in the Main Arena
If you enter the Arena through our South entrance, the nearest bars are located to the right, just as you enter through the foyer doors into the main arena space.
The Danish Quarter
Experience The Danish Quarter by Carlsberg at the Arena on Level 1.  The place to catch-up over a drink or two before the main show begins.
Stylish, relaxed and ambient, take in the feel-good vibes.  Whether that refreshing pint of San Miguel or Somersby, or perhaps another drink from our varied menu...Skål!  
The Danish Quarter concept originated across European festivals and now joins the family of bars available across the venue. 
Located on Level One (just head up the stairs near The Food Bar in the foyer)
Exit 7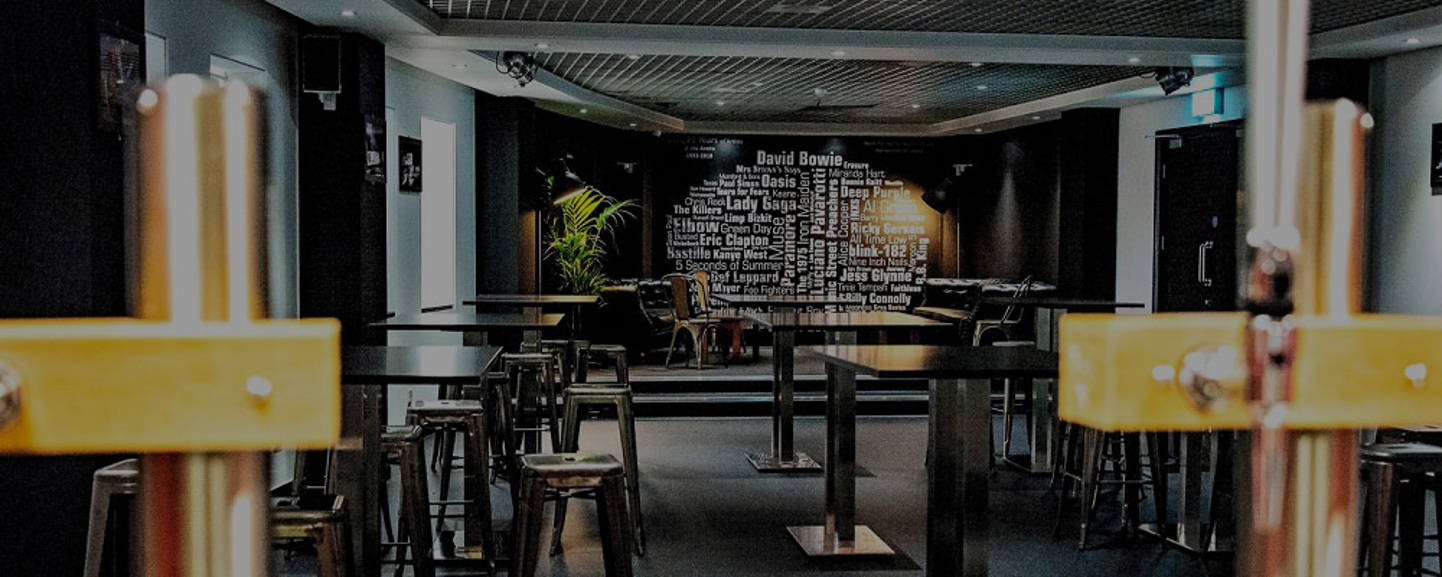 A stage for intimate shows and a rock star bar during our main events.
Exit 7 feels like an exclusive backstage zone. Nurture that inner rock star. Open before and during the show for San Miguel and Somersby on draught as well as spirits, soft drinks and snacks.
Located on Level One (just head up the stairs near the Box Office entrance)
We're passionate about music. It's important to us that new talent coming through is shouted about, so we've created Exit 7. It's an intimate setting, so you can see the next biggest musician, comedian or speaker up close and before the rest. See them here first before they make their way to the main stage.